ROPA President Lehmeier-Tatum addresses the AFM Convention, June 2016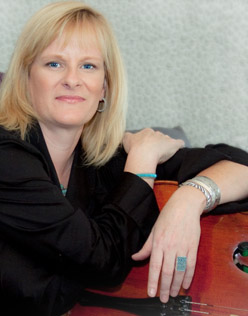 Good afternoon, I would like to thank President Hair and the AFM Executive Board for providing me the opportunity to address this very esteemed gathering.  It truly is an honor to be representing ROPA at the 100th Anniversary Convention.  When I look out at the representatives in this room and think of the individuals of the past century who have fought to establish what we have today, I am humbled. I have been involved with the national aspect of the union for 15 years and the friends and colleagues that I have made will last a life time. I see the friendships that have developed with all of you who have been so actively involved in the union for the past 30 plus years.   ROPA is grateful for the support and friendship of the Players Conferences, the Locals, the AfM Staff and members of the International Board.
This is my last convention as ROPA President.   I will not be running again in July.   I am so proud of the work of the ROPA Board and the Delegates and look forward to seeing ROPA move forward into the next decade, strong and healthy.  I value and look forward to maintaining the strong friendships I have gained during this tremendous journey in my life.
I remember my first ROPA Conference, which incidentally was hosted in Las Vegas.   This was my first experience with union activism on a national level.  I was so inspired by the leadership of Barbara Zmich and the ROPA Board and the networking within the Delegates. The information I received, lit a flame inside of me that encouraged me to begin my service for ROPA. My role as President began nine years ago midterm with very little instruction.  This was quite an undertaking. I had tremendous support from ROPA board members.  The work with the ROPA Board grew stronger each year taking on the challenge of change.   We initiated a long-range plan where we assessed who we are, who we serve, and why we exist.  We looked at our goals and what we had accomplished.    We then opened the process to our delegates during an annual conference to gain a much broader perspective of where we needed to go.  All of this information was compiled into our guiding principles. The Board charged ourselves to provide the following:
To give knowledge and tools to union orchestra musicians and to assist in establishing and furthering fair working conditions;
To educate the membership about industry standards, labor law, procedures and practices;
To empower and enable our colleagues to better their lives in their work place;
To communicate during a time when labor is being dismantled in our country.
We first accomplished a significant revamp of our 40-page handbook and created a concise informational tool that ended up being a resource for new orchestras interested in learning more about ROPA.
ROPA reformatted the annual conference to reflect the expressed needs of the delegates and the latest trends.  To this day we continue to provide the labor and industry training from our symphonic services staff and incorporate presentations from different unions, labor schools, labor councils, arts advocacy groups, and PR specialists. The Delegates are provided more networking time within our membership which continues to evolve.
ROPA representatives began to travel to our member orchestras in need of support. ROPA Board members participated in rallies, picket lines, met with members of the orchestra, orchestra committees and local boards.
We dramatically increased the level of communication from within our delegates through our email list. Even though the amount of emails coming through the list can overwhelm; the fact is, our delegates are engaged, our delegates are providing and sharing invaluable industry information, and, our delegates are stronger.  While many unions have struggled to maintain membership, ROPA's membership has increased 25% from 68 to 87 orchestras in just over a decade.
Why did we start this process? The climate of the time was the recession of 2008, the attacks against the unions were increasing and that anti union sentiment was finding an ever-increasing presence within our orchestral organizations.  Apathy within our orchestras increased as musicians attempted to recreate their lives from diminished employment from their symphonic work.  Participation in committees and involvement in meetings were impacted by the increased need to find other employment. We saw as a regional symphonic conference that maintaining business as usual was dangerous.  The organization had to change to meet the needs of the current conditions.
Creating change within a 32-year old organization involves awareness, education, risk, persistence, openness and ownership.  While we celebrate some very positive momentum, our job does not stop here.
We are still experiencing restructuring mandates from within our ROPA Orchestras: the latest is the Kalamazoo Symphony. Prior to that we witnessed the Hartford Symphony's impossible negotiation.   I feel graced that the first years of my career in the symphonic world were at a time when managements' aspirations were to increase artistic excellence and service to the community. Too often we hear of managements who have replaced that vision with ways to lessen their commitment to the musicians and community. These mandated cuts in services have often resulted in the organization detaching from established and new segments of the community.  We recognize that when they cut the outreach performances and special projects, in the end they impact the ability to reach future audiences.
The landscape of our negotiations is ever changing.  Musicians in these situations have successfully created their own PR campaigns to face the downsizing agendas.  They have focused on creating a very proactive and productive voice from within their communities.  They have had to become very smart in creating a branding image within their communities.
The underlying impact of these negotiations alarms me.
I have been baffled by orchestra musicians who have spent decades building strong relationships with their boards, then overnight be fed these "take it or leave it" mandates.  Are these actions rationalized by the organization as a sign of the time?
I ask myself, if musicians are working less for one orchestra and have divided their energy to numerous performance opportunities have regional they stepped into what is now referred to as the Gig Economy?  Economist Gerald Freidman describes this economy by the following:  Growing numbers of Americans no longer hold a regular "job" with a long-term connection to a particular business. Instead, they work "gigs" where they are employed on a particular task or for a defined time, with little more connection to their employer than a consumer has with a particular brand of chips.
In a Huffington post entitled a Gig economy is a Rigged economy Cameron Conoway shared the following insights:
"The companies I worked for didn't seem to care about me as an individual, and why would they? I wasn't a long-term asset, and others in the gig economy queue were ready to take my spot if I didn't want to keep on spinning. The more I spun in this frenetic, desperate way the more I realized millions of other people were doing the same."
The alarm I realize in our symphonic industry today stems from watching my own father who lived through the collapse of the freelance musicians while being a member of the AFM. My father had a very exciting musical career in his early years as a professional musician. He toured with Gene Krupa, and during his service in the Korean conflict toured to the front line with Tommy Flanagan and Pepper Adams. My Dad was a proud AFM member, he watched his work marginalized, then the local dues dried up, his local ceased to exist and so did my father's membership in the AFM.
For the most part our orchestras have stabilized since the economic downturn.  As the dust has settled, the individual orchestral musician has changed: I have shared with you the increasing gig style orchestral musician, I also have seen an increasing number of musicians, including myself, transitioning or training in new fields, and I have also seen musicians desperately struggle to maintain a check-to-check existence.  The stress of this livelihood often translates to an almost numbing effect where the musicians' focus is to survive with not much energy left for anything else..
At a past ROPA conference, we asked one of our labor school educators to address how unions must change to survive.  His response was that unions can not continue to be a servicing organization, we have to get our members involved.
We recognize that we as symphonic members need to see the union as a community, we need for us to take ownership, and be involved, and for us to be mobilized toward a positive future.
ROPA was built on the principle of providing a voice for our 7,000 musicians.  I hope I am speaking loudly enough to be heard.
ROPA with the AFM must respond to the negative trends in our regional orchestras. We have to recognize that many of the agendas our musicians have faced were literally delivered overnight.  Our musicians can no longer wait to establish alliances within their communities. We can't be blind sided by austerity campaigns that minimalize our musicians.
Everyone in this room understands the relevance of the union, but as our regional musicians are forced to piece meal their existence, their relevance will be increasingly blurred and that blurred vision will impact this union.
I call to the AFM to recognize that there is a segment of our union that is experiencing serious red flags.  I ask of each and everyone in this room to join ROPA and consider the following?
What can you do to give knowledge and tools to the union and to assist in establishing and furthering fair working conditions?
What can you do to educate the membership about industry standards, labor law, procedures and practices?
What can you do to empower and enable our colleagues to better their lives in their work place?
What can you do to communicate better during a time when labor is being dismantled in our country?
It takes all of us to make the AFM strong and our careers prosperous.