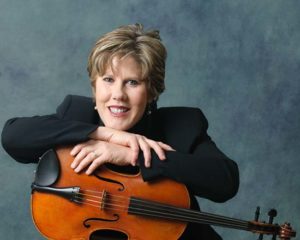 Katie Black Shields has been a ROPA Delegate since 2010. She was elected to the ROPA Executive Board as Member-at-Large in 2017 and has been the Social Media Coordinator since 2019. She assumed the position of Acting Treasurer in November 2021. She has been a member of Local 586 since 1981, and is a former member of Local 10-208 (Chicago) and Local 389 (Orlando).
Katie has been a member of the Arizona Opera Orchestra viola section since 1999. She has served on the Orchestra Committee and the Outreach Concerts Committee, as well as being an admin of the orchestra's FaceBook page. Katie has also been a member of the Phoenix Symphony and the Tucson Symphony Orchestra. She is a former member of the Florida Symphony Orchestra, where she was ICSOM alternate and a member of the Orchestra Committee.
A native of Chicago, Katie fell in love with chamber music while taking part in a multi-year residency program with the Fine Arts Quartet. She is a member of the juried Teaching Artists Roster of the Arizona Commission on the Arts with both Quartet Sabaku and Seventh Roadrunner Ensemble, a viola/clarinet/piano trio. She is a Founder and faculty coach of the West Valley Youth Orchestra's Summer Chamber Music Camp and Founder/Director of the Chaparral Chamber Music Workshop in Prescott, AZ.
Katie holds a DMA in Solo Performance from Arizona State University; a MM in Viola Performance from ASU, and a BM in Viola Performance from Northwestern University. She also studied at Indiana University-Bloomington. Her major teachers include William Magers, Lee Lane, Robert Swan, William Schoen, and George Janzer.
Katie has a private studio in the Phoenix area and works for Chaparral Arts in Prescott in grant writing and publicity. When not working, she surfs for new repertoire for her chamber groups, volunteers at Pueblo Grande Museum in Phoenix and writes humorous pieces about a musical life as the "Musician Mom."